With room for up to six adults, the Peyton® spa from the 680™ Series offers lounge seating with wrist jets and a classic hydrotherapy experience for total relaxation. In the lounge seat, your cares gently melt away – from your back to your wrists to your feet. Throughout the Peyton® spa, you will find seats in many sizes, configurations, and jet formations soothe muscles and release knots, including a jetted seat that offers a less shallow soak while easing the strain in your back. Also, an asymmetric foot dome is nestled into the side of the footwell to make it easy to move around the spa.
The Peyton® has the option of available alternative insulation, to keep the heat in and cold air out. The right insulation can help to lower your heating costs and leave you with a higher-quality spa experience.
84" x 84" x 36" / 214 cm x 214 cm x 92 cm
Customize the Peyton® Spa
The Peyton® Specifications
Dimensions: 84" x 84" x 36" / 214 cm x 214 cm x 92 cm
Spa Volume: 340 gals / 1287 L
Filled Weight: 4682 lbs / 2,037 kg
Dry Weight: 846 lbs / 384 kg
Primary Pump: 2-speed/2.5 hp continuous
Secondary Pump: 1-speed/2.5 hp continuous
Filtration: CLEARRAY® UV-C Technology + Filtration
Filters: 50 ft² filter cartridge system
North America Electrical: 240 VAC 60 Hz @ 30A
International Electrical: 230 VAC 50 Hz @ 16A/20A/32A2/3 x 16A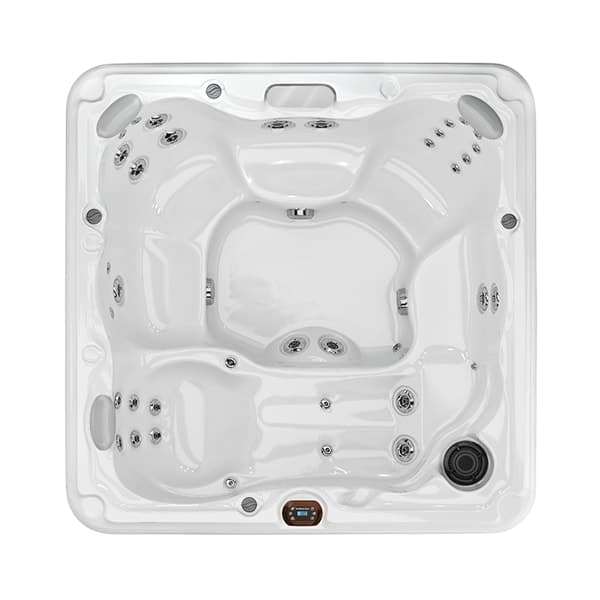 Watch the Peyton® Hot Tub Videos
Various standard jets provide adjustable massage options, strategically placed along ergonomic seats that follow the body's natural form for therapy and comfort.
This unique jetted seat offers a less shallow soak while banishing strain in your back.
Melt your cares away from your back to your feet while relaxing in a reclined position. Wrists also find respite with the only lounge seat in the collection to offer wrist therapy.
Want to learn more about this hot tub?
These spas are packed with all of the features that spa owners love and intertwined them with new elements you'll soon fall in love with, too.
Hydrotherapy Health Benefits
Setting Industry Standards
Want to learn more about this Sundance®Spa?
GET THE BEST PRICING TODAY
Speak with our team of pool and spa experts today to transform your backyard living space. Simply complete the form below and one of our specialists will contact you to discuss the pricing details of your preferred spa.